Centrum Kids MultiVitamin Strawberry 60 Chewable Tablets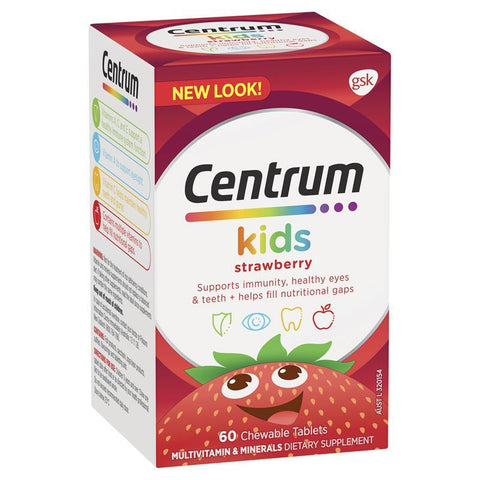 Centrum Kids MultiVitamin Strawberry 60 Chewable Tablets
Description:
Centrum Kids Strawberry is a dietary supplement that fills nutritional gaps and may help support healthy Immunity, healthy eyes and healthy teeth.

Fills Nutritional Gaps - It is sometimes hard to get children to eat a balanced diet, resulting in nutritional gaps. Centrum Kids has been developed to help fill nutritional gaps and assists in providing the essential nutrients children need everyday.
Immunity - Vitamins A, C and E may help support a healthy immune function.
Healthy Eyes - With Vitamin A essential for good eyesight.
Healthy Teeth - Vitamin C helps maintain healthy teeth and gums. Complete from A to Zinc.
Suitable For: Children 3 years and over
Product Claims: Always read the label. Follow the directions for use. Vitamin and mineral supplements should not replace a balanced diet.
Size: 60 Chewable Tablets

KEY FEATURES
• Fill Nutritional Gaps
• Immunity
• Healthy Eyes
• Healthy Teeth
Warnings
Not for the treatment of iron deficiency conditions. Vitamins and mineral supplements should not replace a balanced diet. If taking other supplements, read the label since supplements may contain the same ingredients. In case of accidental overdose, contact your doctor of Poisons Information Centre immediately (Australia 13 11 26, New Zealand 0800 764 766).
Do not use if seal under cap is torn or missing.
CAUTION
Keep out of reach of children.
Ingredients
Each tablet contains:
Retinol acetate (vitamin A) 450micrograms R.E*
Colecalciferol (vitamin D3) 2.5 micrograms
Calcium pantothenate (vitamin b5) 4.5mg
Thiamine nitrate (vitamin B1) 1mg
Nicotinamide 15mg
Riboflavine (vitamin B2) 1.2mg
Pyridoxine hydrochloride (vitamin B6) 2mg
Cyanocobalamin (vitamin B12) 1.2 micrograms
Biotin 50 micrograms
Folic acid 100 micrograms
dl-alpha-tocopheryl acetate (vitamin E) 10mg
Ascorbic acid (vitamin C) 50mg
Calcium (as calcium hydrogen phosphate) 12mg
Phosphorus (as calcium hydrogen phosphate) 9.275mg
Magnesium (as heavy magnesium oxide) 5mg
Iron (as ferrous fumarate) 1.5mg
Zinc (as zinc oxide) 1mg
Manganese (as manganese sulfate monohydrate) 1mg
Contains: Fish products, saccharin, soya bean products, sulfites, flavourings and tabletting aids.
Allergen Contains: Fish| Soybean| Sulphites
Directions
Children 3 years and over: Chew one tablet daily after food, or as directed by your health professional. Not to be swallowed whole. Do not exceed recommended daily dose.
Best Sellers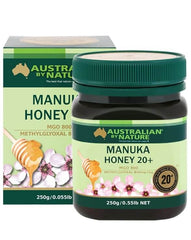 Australian by Nature Bio Ac...