Vitatree Propolis Toothpaste 120g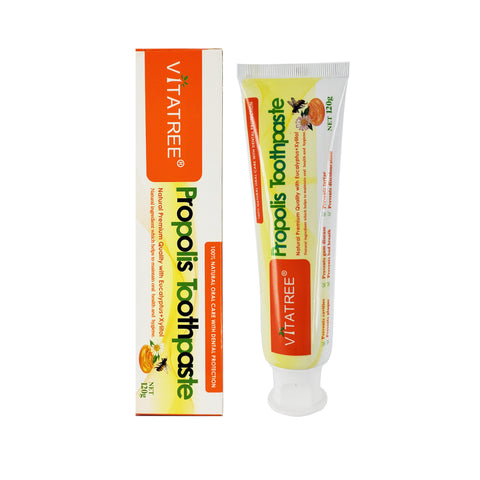 Vitatree Propolis Toothpaste 120g
Description:
Vitatree Propolis Toothpaste 120g
is a great tasting, 100% natural alternative which helps to maintain oral health and hygiene. It minimizes dental cavities and reduces plaque and inflammation and is perfect for people who want a fresh minty taste. Use daily for clean teeth, fresh breath, and healthy gums.
The antiseptic and antibacterial properties of propolis help fight infection in your mouth and gums while helping reduce cavities, gingivitis, and plaque build-up. Xylitol, a natural substance found in birch trees, helps to prevent plaque build-up with regular brushing. Tea Tree Oil and other essential oils work together to freshen your breath.
PACKAGING: 120g
INGREDIENTS
- Sorbitol Purified Water
- Silica Glycerine
- Cellulose Gum Menthol
- Propolis Extract Sodium Lauryl Sulfate
- Mentha Piperita (Peppermint) Oil Sodium Monofluorophosphate
- Cocamidopropyl Betaine Xylitol
- Aloe Barbadensis Leaf Juice Powder Trans-Anethole
- Eucalyptus Globulus (Eucalyptus) Oil Sodium Benzoate
- Rosa Centifolia Flower Extract Sodium Saccharin
- Camellia Sinensis (Green Tea) Leaf Extract
- Rosmarinus Officinalis (Rosemary) Leaf Extract
- Lavandula Angustifolia (Lavender) Flower Extract
DIRECTIONS
- Apply an appropriate amount to your toothbrush and brush your teeth gently. For best results brush at least twice a day after meals.
- Warning: Propolis may cause severe allergic reactions. If irritations or swelling of the mouth or throat occurs, discontinue use and consult a healthcare practitioner.
Best Sellers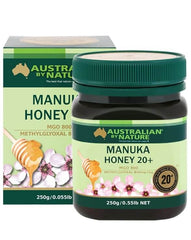 Australian by Nature Bio Ac...