Cabot Health Collagen Food 200g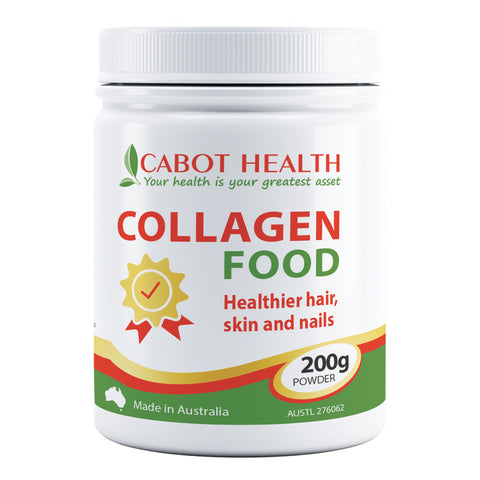 Cabot Health Collagen Food 200g
Description:
Cabot Health Collagen Food powder is formulated with ingredients to help your body make its own collagen. As we age our collagen deteriorates and we don't make as much new collagen as when we were young. Most Collagen products on the market contain collagen from animals or marine life. Our Collagen Food powder is suitable for vegans and does not contain any animal products. Give your body the ingredients it needs to make healthy strong collagen.
The comprehensive combination of MSM, vitamin C, biotin, zinc and silica in an effective formulation that helps to fight against free radical damage and inflammation. Our formula helps to improve joint health and may increase the strength and integrity of hair, skin and nails. It is the ideal formulation to help fight against the signs of ageing and comes in a pleasant-tasting powder formula for maximal absorption.
The benefits of Collagen Food:
Healthy hair, skin and nails:

 

MSM is a natural sulphur-containing compound. Sulphur is required for the production of collagen and keratin which help to maintain strong hair, skin and nails. Biotin in our formula may help to prevent against hair loss and brittle nails, and silica may help to reduce wrinkles for a more youthful appearance.
 
Healthy joints and connective tissue:

 

Vitamin C is well known for its ability to repair and replace the damaged collagen that has been worn away by ageing, free radical damage, daily wear and tear and injury. Silica helps to maintain bone strength and calcium absorption. The combination of ingredients in our formula may help to reduce inflammation in the joints and improve flexibility.
 
Reduced pain and inflammation:

 

As vitamin C is a potent antioxidant, it helps to fight against free radicals that cause damage and inflammation in the body. The sulphur content also assists the cells in removing excess fluid and toxins, aiding in the reduction of inflammation and pain.  
 
Improved liver function:

 

The antioxidant and sulphur content of this formula help to support and strengthen the pathways responsible for adequate liver detoxification. The formula may help to support those with a sluggish liver or could be used as part of a detox program.
 
Exercise recovery:

 

Taking MSM and vitamin C prior to exercise could help to reduce the risk of muscle or ligament damage. For those with pre-existing ligament or cartilage damage, this formula may assist in healing and preventing further injury after exercise.
 
Strengthened immune system:

 

Vitamin C and zinc are required by immune cells to help fight infections. Deficiency of these nutrients may increase susceptibility to contracting a virus or bacterial infection. As MSM helps to remove excess toxins from the body, it works well with nutrients to strengthen the immune system.
 
Collagen Food may help with:
Arthritis
Colds and flus
Cartilage, ligament or muscle damage
Stiffness in the joints
Weak or thinning hair
Brittle nails
Easy bruising
Wrinkling of the skin
Weakness of the pelvic floor
Weak or bleeding gums
Sluggish liver
Bone fracture
Dosage:
Adults:

 

1 teaspoon in a glass of water, once or twice daily.
Children: 1/2 teaspoon in a glass of water or juice, once or twice daily, before meals.
Cautions and contraindications:
Vitamin supplements should not replace a balanced diet.
Patients should consult with their healthcare practitioner if symptoms persist.
Each 1 level metric teaspoon (3g) contains:
| | |
| --- | --- |
| Dimethyl Sulfone (methyl sulfonylmethane - MSM) | 1500 mg |
| Vitamins: |   |
| Calcium Ascorbate Dihydrate (equiv. to Ascorbic Acid 413.82 mg) | 501 mg |
| Ascorbic Acid | 551.67 mg |
| To provide total Vitamin C | 965.49 mg |
| Biotin  | 3 mg |
| Minerals: |   |
| Silica - Colloidal Anhydrous | 150 mg |
| Zinc (as glycinate) | 10 mg |
| Contains stevia, natural lemon flavour and sodium bicarbonate. |   |
Best Sellers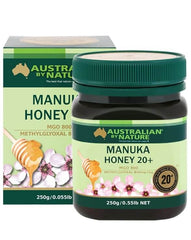 Australian by Nature Bio Ac...