Freezeframe Value Duo (Revital eyes + Hyper White)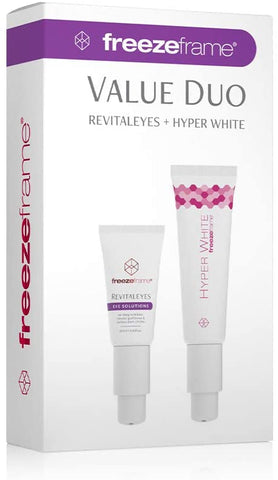 Freezeframe Value Duo (Revital eyes + Hyper White)
Description:
BUY 1 Freezeframe Value Duo and get 1 FREE Freezeframe Revital Day & Night 30ml value $45.95!
Important note: Customer must click on 'ADD BUNDLE' green button to get the FREE item. 
Freezeframe Revitaleyes
With tri peptide and vitamin C, for clinical eye area repair, this powerful gel-like balm instantly erases signs of ageing, stress and fatigue to produce smoother, brighter upper and lower eyelids. At the same time, it moisturises and energises the tissues, increasing microcirculation and performing a deep and long lasting anti-wrinkle, anti-bag and anti-dark circle action.
Freezeframe Hyper White
Freezeframe's Hyper White is a true breakthrough, with clinically proven instant and long term effects. Experience a brighter, more even skin tone in just 10 minutes, with a progressive lightening of tone and pigmentation in just 4 weeks.
Their powerful skin brightening formula works in two unique ways to reduce pigmentation. For instant results, modified titanium dioxide, plus optical brighteners provide an immediate uniformity and matt appearance to the complexion which is clinically proven to unify skin tone and reduce the melanin index by 10.3% in just 10 minutes.
Other immediate benefits include a reduction in redness, pore size and even wrinkles.
For serious, long term pigmentation reduction, Freezeframe's Hyper White contains a synergistic blend of bio-mimetic peptides, enzymatic peeling agents, including enzymes from papaya, ions and amino acids and a natural extract of the Chilean Boldo tree which has been proven in 3 separate clinical trials to slow melanin production by as much as 70%.
Best Sellers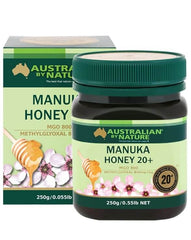 Australian by Nature Bio Ac...