Herbs of Gold Ultra Zinc+ 60 Capsules
Herbs of Gold Ultra Zinc+ 60 Capsules
Description:
High strength elemental zinc
Herbs of Gold Ultra Zinc + contains high-strength zinc that is organically bound to support absorption, with cofactors vitamin A, B6 and magnesium. 
High strength
Organically bound
With vitamin A, B6 & magnesium
Always read the label. Follow the directions for use.
If symptoms persist, talk to your health professional. 
Ultra Zinc + is a complex nutritional formula containing zinc, vitamins A and B6 plus magnesium.
Zinc maintains male reproductive system and prostate health and supports sperm motility.
Zinc is important for skin health as it supports wound healing and connective tissue health. Zinc also maintains taste sensation.
Ultra Zinc + contains vitamin A to support eye function and healthy vision.
Zinc and vitamin A are antioxidants that reduce free radicals formed in the body and support healthy immune system function.
Vitamin B6 assists the metabolism of protein, carbohydrates and fats and the synthesis of neurotransmitters.
Adults - Take 1 capsule daily, with food, or as directed by your health professional.
WARNINGS
When taken in excess of 3000 micrograms retinol equivalents, vitamin A can cause birth defects. If you are pregnant, or considering becoming pregnant, do not take vitamin A supplements without consulting your doctor. 
The recommended daily amount of vitamin A from all sources is 700 micrograms retinol equivalents for women and 900 micrograms retinol equivalents for men.
Contains zinc which may be dangerous if taken in large amounts or for a long period.
Vitamin and mineral supplements should not replace a balanced diet.
Best Sellers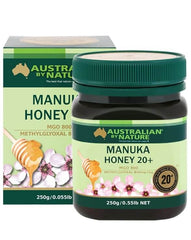 Australian by Nature Bio Ac...