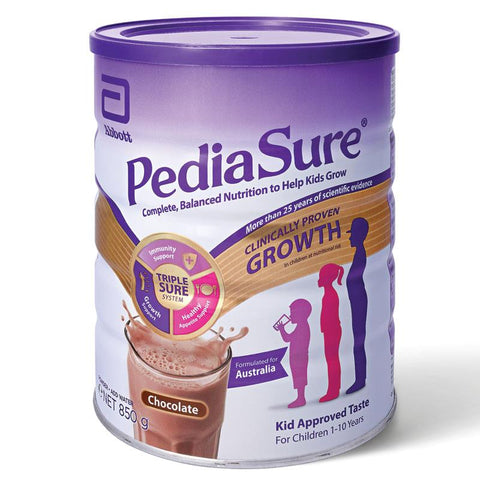 PediaSure Chocolate 850g
Description:
GENERAL INFORMATION
PediaSure is a nutritionally complete, balanced oral nutritional supplement, scientifically formulated to support healthy growth and development in fussy eaters. Fussy eaters may be at increased risk of infections because they may be deficient in certain nutrients. PediaSure is scientifically formulated medical food for children with or at risk of developing disease-related malnutrition1. PediaSure contains 28 essential vitamins and minerals including:
Iron - a nutrient that's important for normal brain development
Calcium, Vitamin D and phosphorus, which are essential for healthy bones
PediaSure also delivers a balanced combination of carbohydrate 44% fat 44% and protein 12% designed especially for growing bodies.
FEATURES
Specially formulated for children aged 1 to 10 years
Provides complete, balanced nutrition
Oral or tube feeding
28 essential vitamins & minerals when mixed with cold water according to directions
12 g of protein when mixed with cold water according to directions
#1 Paediatrician Recommended Brand
PRECAUTIONS
Food for Special Medical Purposes. Use only under medical supervision.
INGREDIENTS
List of ingredients in descending order:
Hydrolysed corn starch, sucrose, sodium caseinate, high oleic sunflower oil, soy oil, medium chain triglycerides (MCT) oil, MINERALS (calcium phosphate tribasic, potassium citrate, magnesium chloride, potassium phosphate dibasic, potassium chloride, sodium citrate, ferrous sulphate, zinc sulphate, manganese sulphate, cupric sulphate, chromium chloride, potassium iodide, sodium molybdate, sodium selenite), whey protein concentrate, flavouring, VITAMINS (choline chloride, ascorbic acid, ascorbyl palmitate, niacinamide, dl-alpha tocopheryl acetate, calcium pantothenate, thiamin hydrochloride, pyridoxine hydrochloride, riboflavin, Vitamin A palmitate, folic acid, beta-carotene, biotin, Vitamin D3, phylloquinone, cyanocobalamin), inositol, taurine, l-carnitine.
May contain: maltodextrin, magnesium sulphate, sodium chloride.
Contains soy and milk ingredients
DIRECTIONS
Mixing Instructions:
To prepare a 225ml serving:
Mix 5 level scoops (scoop enclosed) or 45.4g of PediaSure Powder into a 190ml glass of cold water, stirring until powder is dissolved.
An 850g can of powder yields approximately 19 x 225 ml servings.
Chocolate Flavour.
Best Sellers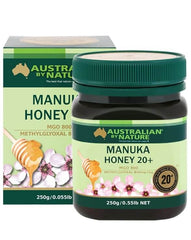 Australian by Nature Bio Ac...