Herbs of Gold Selenium 150 MAX / 60 Capsules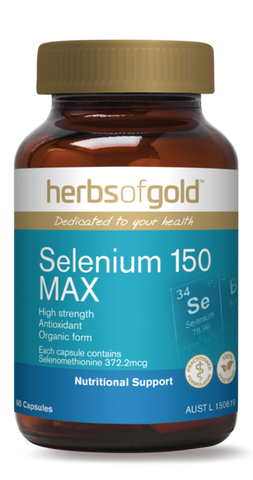 Herbs of Gold Selenium 150 MAX / 60 Capsules
Description:
High strength organic selenium
Selenium 150 MAX provides 150mcg of selenium in each vegetable capsule.
High Strength
Antioxidant
Organic Form
Directions
Adults - Take 1 capsule daily, with food or as directed by your healthcare practitioner.
Children under 15 years - not recommended.
Indications
Selenium 150 MAX

provides 150mcg of selenium in each vegetable capsule. The selenium in

Selenium 150 MAX

is an organic form called selenomethionine, which is more bio-available than inorganic forms of selenium.
Selenium is an essential trace mineral and potent antioxidant and free radical scavenger.
Selenium is an essential component of the enzyme system glutathione peroxidases, an enzyme system involved in deactivating free radicals. Selenium requirements are increased during times of increased oxidative stress such as strenuous exercise or exposure to pollutants such as cigarette smoke.
Selenium may assist in the healthy functioning of the prostate gland and male reproductive health. Selenium is required for testosterone synthesis and healthy sperm motility and maturation.
Selenium is necessary for healthy thyroid and immune system function. Selenium helps to regulate the production of immunoglobulins (such as IgG) and may enhance the activity of certain white blood cells such as the natural killer cells.
WARNING
This product contains selenium which is toxic in high doses. A daily dose of 150 micrograms for adults, of selenium from dietary supplements should not be exceeded.
Ingredients
Each capsule contains:
Selenomethionine
372.2mcg
  equiv. Selenium 150mcg

Does not contain added egg, milk, peanut, corn, soy, tree nut or animal products, yeast, gluten, lactose, artificial colourings, flavourings or preservatives.
Best Sellers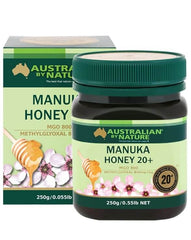 Australian by Nature Bio Ac...