News
Simply LIKE the Cabramatta FB page then COMMENT and tell us what your favourite Bee Vitamin product is! (Winner will be announced this Thursday 22 Dec 2016) — with Bee Vitamins.
Read more
We uncover the truth about this celebrity-endorsed elixir Long before superfoods were considered health-and-beauty must-haves, there reigned a queen of natural elixirs touted widely for its wound healing and skin-softening properties – and, of course, its taste. But now, as the latest in food fads come and go, manuka honey continues its steady rise in popularity.What is manuka honey?Manuka, a medicinal-grade honey, is produced by honey bees that feed on uncultivated manuka bush or tea tree plants in New Zealand and southeast Australia. It is adored by celebrities and everyday consumers alike thanks to its antibacterial properties; a result of...
Read more
Best Sellers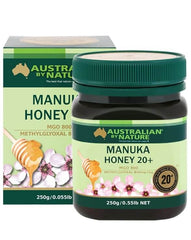 Australian by Nature Bio Ac...