Hivita Luminous White The Ultra Skin Renewal Cream 30mL
Hivita Luminous White The Ultra Skin Renewal Cream 30mL
Description:
ON SPECIAL!!!
This luxury beauty cream is formulated with a patented blend of natural ingredients including Phytoene and Phytofluene sourced from the rare white tomato, Jojoba Oil, Jojoba Leaf extract and Squalane.
The cream is clinically proven to support:
Skin lightening
Fine line reduction
Formation of collagen
Visible youthfulness
More even complexion
Moisturisation
Smoothness
Suppleness
Elasticity
Hydration
Radiance
Firmness
Hivita Luminous White Age Defy provides a natural way to maintain beautiful, healthy and radiant skin for a more youthful appearance. It is formulated with a patented and clinically trialled Jojoba Leaf extract plus a blend of Squalane, Jojoba Oil and the colourless carotenoids Phytoene and Phytofluene from non GMO freeze dried, specially selected Solanum Lycopersicum (tomato) fruit extract.
Natural, age-defying ingredients:

Squalane: On the skin's surface squalane acts as a natural barrier, protecting the skin from moisture loss and providing a shield for the body from environmental toxins. It is also an antioxidant-rich, age-fighting emollient that helps soften and smooth the skin, reduce wrinkles, lighten freckles and skin pigmentation while fighting free radicals.
Jojoba Oil: Moisturises and softens skin without clogging the pores.
Phytoene and Phytofluene: Colourless carotenoids Phytoene and Phytofluene are the first precursors in the biosynthetic pathways of other coloured carotenoids. They are known to absorb UV light and lighten skin tone by having a direct effect on skin pigmentation and protecting the skin from damage.
IBR-GAPTURE®: An aqueous extract of Jojoba Leaf that improves skin structure and cohesion to restore moisture in the skin.
Free from parabens and artificial fragrances.
Apply evenly to clean skin morning and night.
Best Sellers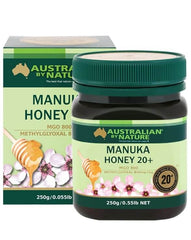 Australian by Nature Bio Ac...