Australian by Nature Manuka Honey 8+ 500g - New Zealand
Australian by Nature Manuka Honey 8+ 500g - New Zealand
Description:
100% ORIGINAL MADE IN NEW ZEALAND

AUSTRALIAN BY NATURE IS THE BRAND NAME
Manuka Honey from New Zealand - Australian by Nature has an extensive range of premium quality bio–active Manuka honey. All our Manuka honey is tested in certified labs, using the method prescribed by the world renown Manuka honey expert, Dr. Peter Molan, of the University of Waikato, New Zealand. We currently stock Manuka honey with NPA (non–peroxide activity) ratings of 8+, 12+, 16+ and 20+, as well as a Manuka blend honey.
Australian by Nature Manuka Honey is a natural bio–active honey which is produced from nectar collected from the blossoms of the leptospermum scoparium tree. Manuka is the native New Zealand Maori name for this tree. Australian by nature Manuka honey is sourced from high density, 100% organic and pollution free Manuka forests in far North New Zealand. It is a potent anti–bacterial and anti–viral agent and is the only honey available which has been tested for its anti–bacterial activity.
Unlike other honey, the anti–bacterial activity of Manuka honey is very stable. It is not affected by light, heat nor dilution, making it very effective in the treatment of many ailments. The tested strength of Manuka honey can be determined by the activity factor, which is represented by a number. The higher the number, the stronger the anti–microbial ingredient and the more potent the bio–activity of the honey.
Each batch of Australian by Nature Bio–Active Manuka Honey is laboratory tested to determine its bioactivity level (NPA) using the same method prescribed by Professor Peter Molan, the world renowned scientist at the University of Waikato, New Zealand. The 'Certified Manuka' rating shown is based on the minimum level of non–peroxide activity as equivalent per cent phenol, measured as in J Pharm Parmacol 43:817–22.
For more information, please refer to the University of Waikato Honey Research Unit webpage.
A natural bio–active honey harvested from the organic and pollution free Manuka forests of northern New Zealand. Bio–active Manuka honey has an exceptional antibacterial activity not found in regular honey.
Each batch is laboratory tested to determine its bio–activity rating (NPA)
100% certified pure bio–active Manuka honey
Halal approved
Benefits:
Effective in the treatment of wounds, cuts and burns
Used to treat mouth ulcers, tonsillitis, gastroenteritis and constipation
It is thought to strengthen the immune system and assist in combating colds and flu
 Ingredients
Best Sellers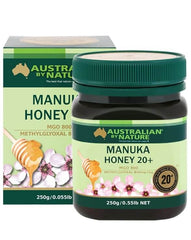 Australian by Nature Bio Ac...