Shipping Time and Return & Refund Policy
Shipping Time and Return & Refund Policy
MANUKA HONEY IS NOT FOR SALE IN WESTERN AUSTRALIA, this product cannot be dispatched to WA due to the state regulations.
With standard delivery, you should expect to receive your order within the estimation days as follows:
NSW: 3 - 4 business days
VIC: 5 - 7 business days
QLD: 5 - 7 business days
SA: 5 - 7 business days
WA: 7 - 10 business days
TAS: 5 - 7 business days
NT: 5 - 7 business days
The delivery time is only a guidance, we cannot control for delivery as it is done by the third parties courier company such as Australia Post, Aramex, etc. We do our best to process all orders at the earliest. 
It is recommended to choose Express shipping if you need urgent because the delivery time will be faster than the standard shipping. However, if you really need urgent, it is safe to come instore for pick up as our system cannot cancel order once being processed. We appreciate your understanding and co-operation. 
For international orders, it takes about 7 - 14 working days. Please be aware the shipping times are dependent on your location and the shipping method that you choose.
We have special couriers to Vietnam, Cambodia, China, Hong Kong, Taiwan, Indonesia, Malaysia where all customs tax are included and delivered to your door. Please contact us for more details.
WeCHAT ID: BeeVitamins
Call or Whatsapp or Viber: 0466 846 969
For International orders, there might be a customs tax when the items arrive in your country and it is the customer's responsibility to be aware of. Please contact your relevant customs office. 
All packages for international and domestic orders are being checked before dispatched to ensure all items are in good condition and packed in a safe packaging box. We offer insurance to be able to claim if parcel received in a damaged condition or lost. Contact us if you really need insurance, this recommended for big order. 
We have no control over International customs or International Postal Operations and as such, takes no responsibility for damaged items or items claimed to be missing. Some countries might not accept a certain product, it is customer's responsibility to be aware of for these such regulations. Please contact us if you need further assistance.
For international orders, we cannot guarantee the quality of any consumable products delivered due to extended shipping times and weather and hold no liability on replacing / refunded them.
If there is International delay on shipping, we hold no liability on replacing or refunded them. We recommend such claims are placed with your local customs and or postal service.
For international orders, if the tracking shows delivered but you haven't received the products, we will contact the courier in Australia and it is customer's responsibility to contact the local post office in your country. 
In a rare case that the customs in your country does not accept the parcel and this cause the parcel being returned back to us, we are unable to refund the payment, however we can re-send again to any receiver in Australia or other countries and there is a re-delivery fees.
If the parcel is returned to us due to incorrect address provided or other reasons due to the courier, we are unable to refund the payment, however we can re-send again and there is a re-delivery fees.  *Please pay more attention on providing the details of receiver's name, address and contact number*.
We do not accept returns or issue refunds on the basis you changed your mind or incorrect choice or do not like an item. Please choose carefully before you make a purchase.
For unusual cases, we accept returned products within 7 days and refund the cost of the product excluding shipping, packing and handling costs, the products must not be opened as we will not refund opened products. Returned items must be sent to us at the buyers expense. 
Due to our large volume of orders, a cancellation, change address, adding products or change of products will not be possible due to our system processing the order efficiently.
If you would like to cancel your order, you can post the order back to us at your own cost (each case subject to reviewed). A cancellation of existing order will attract 20% restocking fees on the total price. The returned product must be in original condition, returned products that are damaged will not be accepted. 
Vitamins, Manuka Honey, Baby Formula, Skincare products and other consumable products are unable to be refunded or returned once they have been dispatched.
By agreeing to order the products from us, you accept that we are responsible for the picking, packing, and dispatching the parcel to you. Once the parcel being dispatched from our store, we are not liable for any exchange or refunds due to damage or customs tax or duties.
We use Australia Post and other reputable international couriers for your delivery, so you can have absolute confidence that if your order fails to arrive it is not a function of the courier but rather a regulatory hurdle.
We strive to provide our customers with the best service possible and the highest quality products from Australia.
We are proud to deliver the best quality Australian healthcare products to all over the world.
Best Sellers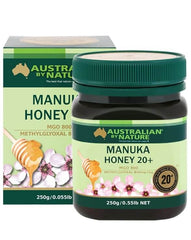 Australian by Nature Bio Ac...