Australian by Nature Manuka Honey Candy 12+ (Mgo 400) with Eucalyptus
Australian by Nature Manuka Honey Candy 12+ (Mgo 400) with Eucalyptus 30 Candies
Description:
Australian by Nature Manuka & Eucalyptus candies are a refreshing and tasty treat, containing the goodness of Manuka Honey and Eucalyptus. With the natural sweetness and properties of  Manuka Honey 12+ Methyglyoxal (MGO 400) rating, and the soothing effects of Eucalyptus Oil. These candies are effective in clearing your nose, soothing your throat and giving freshness to your breath.

Individually sealed for optimum taste and freshness, the candies are available in resealable bags.
Manuka is the Native New Zealand Maori name for the leptospermum scoparium tree.
Australian by Nature sources Manuka Honey from our own apiaries in far north New Zealand. This honey is produced by honeybees and collected from beehives located in high density, organic and pollution free Manuka Forests.
Once collected, it is filtered and bottled to ensure that it retains its natural properties. Manuka honey is extremely stable and not affected by light, heat nor dilution making it very effective in many applications.
Australian by Nature Manuka Honey is 100% natural with no additives. Fresh Manuka is packed in one of New Zealand's most highly accredited facilities where it is labelled in compliance with standards implemented by the New Zealand Ministry for Primary Industries (MPI).
GUARANTEED QUALITY
Each batch of Australian by Nature Manuka Honey is tested and certified by an accredited laboratory under the ISO17025 standard for its MGO (Methylglyoxal) levels, in compliance with MGS (Molan Gold Standard™) guaranteeing a minimum level of methylglyoxal. This test result is shown on our label. For example, MGO 600 (MGS 16+) Manuka Honey assures there is a minimum of 600mg of methylglyoxal per kg. The Molan Gold Standard references this marker, as tested and certified by an accredited laboratory under the ISO17025 standard. 
Product Description
Manuka & Eucalyptus Candy are a refreshing and tasty treat.
They contain the natural sweetness of Manuka Honey 12+ (MGO 400) and the refreshing effects of eucalyptus oil.
Great for all of the family!
Benefits
Clears the nose
Soothes a dry throat
Freshens the mouth and breath
Serving Suggestion
Dissolve one candy slowly in the mouth as needed.
(Not suitable for children under 12 months of age).
Ingredients
Sugar, wheat glucose syrup, citric acid (330), Manuka honey (1%), eucalyptus oil and menthol.
Best Sellers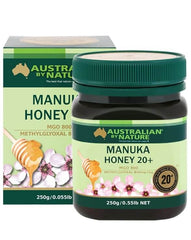 Australian by Nature Bio Ac...