Australian by Nature Propolis Toothpaste with Manuka Honey 20+ (MGO 80
Australian by Nature Propolis Toothpaste with Manuka Honey 20+ (MGO 800) 100g
Description:
Australian by Nature Propolis Toothpaste with Bio-Active Manuka Honey NPA 20+ is formulated to clean and brighten your teeth and leave your mouth with a lasting minty refreshed feeling.
Contains the antibacterial activity of both bio-active manuka honey and propolis, this toothpaste is formulated especially for people concerned with oral health and hygiene.
It works to protect teeth from decay and promotes healthy gums.
Ingredients:
Sorbitol, Silica, Water, Manuka Honey, Glycerol, Sodium Lauryl Sulfate, Spearmint Oil, Propylene Glycol, Propolis, Sodium Saccharin, Peppermint Oil, Titanium Dioxide, Hydroxyethyl Cellulose, Wintergreen Oil.
Directions for use:
For Adults and children over 12 years of age
Brush teeth thoroughly with toothpaste 2 to 3 times daily or after meals.
Best Sellers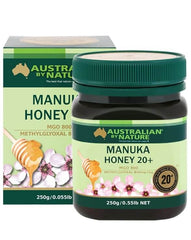 Australian by Nature Bio Ac...