Cheri Ultra Nourishing Manuka Honey Hand Therapy 75ml
Cheri Ultra Nourishing Manuka Honey Hand Therapy 75ml
Description:
Product Descriptions:
Instantly moisturizes & soothes dry and severely chapped hands without greasy feeling
Delicately scented to give exceptional comfort
Enhanced with Manuka honey, Vitamin E and Shea Butter
Repairs, protects and restores skin for a velvety soft, smooth & supple touch
A rich nourishing hand cream combining Manuka Honey, Vitamin E and Shea butter, helping to enhance fast absorption, aiding the nourishment and health of your hands through daily use. Manuka Honey has countless benefits for your skin, including repair, protect, and restore your delicate hand skins exposed to harsh environment every day.

Suitable for most skin types

Main Ingredient:
Shea Butter, Lanolin, Manuka Honey, Vitamin E
Directions for use:
Gently massage onto face, neck, and body as required to give you firm feeling skins and a radiant appearance
Best Sellers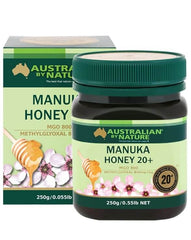 Australian by Nature Bio Ac...