Comvita Manuka Honey Blend MGO 30+ 250g
Comvita Manuka Honey Blend MGO 30+ 250g
Description:
Mānuka Blend Honey, sometimes referred to as "Multifloral Mānuka " is a natural blend of New Zealand honeys, made when bees forage from a range of monofloral sources, including the mānuka (Leptospermum scoparium) bush.
Mānuka Blend Honey has a slightly milder flavour than its monofloral mānuka counterparts, and with Comvita's signature smoothness and creaminess, is ideal for round the clock family snacking.
Directions
Mānuka Blend Honey is a naturally-occurring blend of local floral honeys, including Mānuka (leptospermum scoparium), with a guaranteed level of Methylglyoxal (MGO) activity.
For preferred honey consistency, warm to soften or refrigerate to firm.
Not suitable for children under one year of age. Do not use if cap seal is broken.
Ingredients
Comvita® Manuka Blend Honey combined with a variety of other rich and herbaceous New Zealand bush honeys such as Rewarewa and Kamahi.
New Zealand Manuka Honey is gaining worldwide recognition for its unique properties. Rewarewa and Kamahi honeys are high in antioxidants.
Size 250g
Best Sellers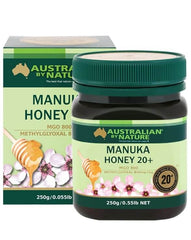 Australian by Nature Bio Ac...