Natural Life Manuka Honey MGO 800+ 250g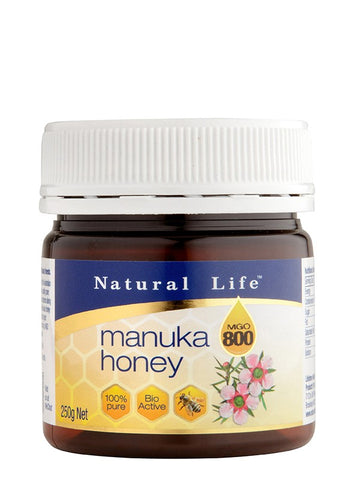 Natural Life Manuka Honey MGO 800+ 250g
Description:
100% Pure - Chemical Free - Pesticide Free - MGO 800 

Premium hand harvested Manuka Honey is rich in antioxidants and the antibacterial agent, MGO (methylglyoxal) for which Manuka Honey is famous.
Hand harvested from pristine native Australian Manuka forests. Natural Life™ Bio-Active Manuka Honey is a product of the Australian
Leptospermum Polygalifolium plant. It is a premium quality pure Manuka Honey, harvested from unpolluted natural ecosystems along the East Coast
of Australia.
Natural Life™ Bio-Active Manuka Honey has been scientifically tested for the antibacterial agent METHYGLYOXAL (MGO) and has been
rated according to MGO per kg, as indicated on the front panel.
Why Australian Manuka Honey?
Manuka Honey is mostly known as a product of New Zealand, however, Australia has its own native variety of manuka plant from the same family: Leptospermum Polygalifolium. Our farmers cultivate Australian Manuka plants (locally known as 'jelly bush') so we can enjoy locally produced Manuka Honey. When you buy Natural Life™ Manuka Honey, you're buying a premium Australian Made product with the quality and purity you expect from our premium natural health brand.
What about the rating?
The active antibacterial strength of all Manuka Honey is based on levels of MGO (methylglyoxal) per kilogram. Natural Life™ Manuka Honey 800 MGO is scientifically tested for MGO (methylglyoxal) with a content of 30gm per kilo. This is equivalent to active 800 MGO in common ranking methods.
Natural Life™ Manuka Honey 800 MGO is a mild tasting, delicious honey that can be consumed daily to support digestive health and general wellbeing. It can be used in place of your everyday honey or as an elixir specifically for health.
Best Sellers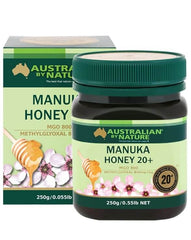 Australian by Nature Bio Ac...