Spring Leaf Royal Jelly 1000mg 365 Capsules
Spring Leaf Royal Jelly 1000mg 365 Capsules
Description:
Royal Jelly 1000mg
Spring Leaf Royal Jelly Features and Benefits:
- 100% naturally sourced from precious nutritious food of Queen Bee
- Natural, precious, & highly nutritious supplement including proteins, amino acids, essential vitamins and minerals
- Contains B vitamins to relieve stress
- Contains Vitamin A, C and E associated with skin health and anti-aging
Product Description:
Royal Jelly is a precious nutritious food produced by bees exclusively for the queen bee. It is natural and highly nutritious and is good for people of all ages.
Made in Australia by a 100% Australian owned company. Manufactured under strict cGMP conditions and tested in accredited Australian laboratories. All Homart products are covered by AUD $10 million Global Product Insurance to cover product quality for world-wide customers.
Active Ingredients Per Capsule:
Royal Jelly Lyophilised 183.4mg equiv. to 6% 10-HDA (11mg 10-HDA) and Soya Oil, Gelatin, Coconut Oil, Vegetable Oil-Hydrogenated, Glycerol, Beeswax, Purified Water, Lecithin.
Size: 365 Capsules
Dosage/Direction:
Adults take 1 capsule per serving, 1 to 2 servings per day. You can dissolve it in water as a drink, mix it with food, or simply swallow it with water.
Cautions:
Not suitable for children. This product contains royal jelly which has been reported to cause severe allergic reactions and in rare cases, fatalities, especially in asthma and allergy sufferers.
Storage:
- Store below 30˚C in a cool dry place.
- Do not use if seal is broken or missing.
- Royal Jelly may turn darker naturally.
Best Sellers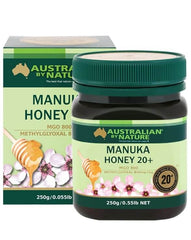 Australian by Nature Bio Ac...