Royal Nectar Original Face Mask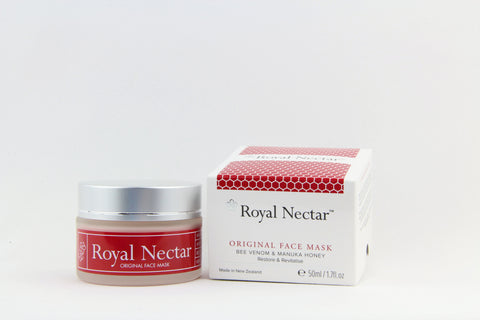 Royal Nectar Original Face Mask
Description:
PRODUCT DESCRIPTION
Royal Nectar Original Face Mask is formulated for a rapid anti-ageing effect. The Royal Nectar Original Face Mask is not only where it all started for Royal Nectar, it is also the most popular product in the range thanks to the combination of Manuka Honey, Bee Venom, Easyliance and a soothing blend of natural waxes and oils which makes your skin look amazing!
Bee Venom gently stimulates your facial muscles to tighten and firm the skin, reducing the effects of your frown and laughter lines. Easyliance works extremely well in conjunction with the bee venom by helping to break down old skin cells and rejuvenating the skin.
No bees are harmed in the bee venom collection process.
Please note
Some variations to packaging have occurred in 2015. You may notice differences in the colour of the label (various shades of red), changed layout of the brochure, and some products produced early 2015 come with a spatula without Royal Nectar embossed on it.
Directions for use
This is not your usual Face Mask. It can be used as a restorative face mask at any time, OR as a night cream to deeply replenish.
Face mask: (1) Cleanse skin & apply the cream generously over your face and neck. (2) Wash off after 20 minutes.
Night cream: (1) Cleanse skin and apply sparingly to the face and neck. (2) Leave over night and wash off in the morning.
For best results also use Royal Nectar Moisturising Face Lift every morning.
A test patch application is recommended for first use.
Natural Ingredients
We pride ourselves on using natural ingredients where possible so your skin can soak up all the natural goodness. The key ingredients in our Royal Nectar Original Face Mask are;
New Zealand Manuka Honey – Manuka Honey is rich in natural antioxidants and antibacterial activity and helps to moisturise and renew the skin.
Bee Venom – Bee Venom gently stimulates facial muscles for a natural anti-aging effect on fine lines and wrinkles.
Royal Nectar Original Face Mask ingredients are Distilled Water, Nectar Ease (Manuka Honey with Bee Venom), Polawax GP200, Avocado Oil, Tocopherol Oil, Apricot Kernel Oil, Easyliance, Rosehip Oil, Rose Water, Beeswax, Evening Primrose Oil, Optiphen Plus, Fragrance, Cocoa Butter, Ticaxan, Marshmallow Extract, Manuka Oil, Lavender Essential Oil.
Best Sellers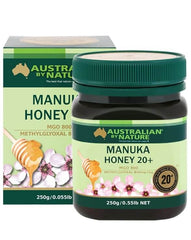 Australian by Nature Bio Ac...