Swisse Bright Skin 60 Soft Capsules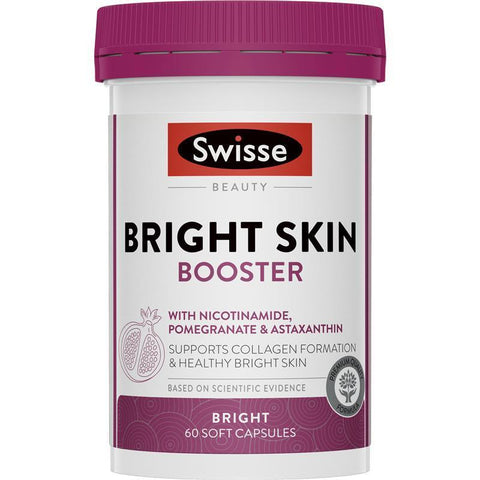 Swisse Bright Skin 60 Soft Capsules
Description:
For brighter, more luminous skin, consider Swisse Beauty Bright Skin Booster, a premium quality beauty supplement.

Swisse Beauty Bright Skin Booster is a skin-brightening supplement that supports a luminous, even complexion. Its unique beauty nutrition formula supports collagen formation, skin elasticity and firmness, from the inside out.
Size: 60 Soft Capsules

BENEFITS:

• Maintains skin health from the inside out.
• Assists collagen formation.
• Supports a bright, luminous complexion.
• Contains pomegranate, astaxanthin, cranberry and glutathione, good sources of antioxidants.
Warnings
Not recommended for use by pregnant and lactating women.

For adult use only.

Vitamin supplements should not replace a balanced diet.

If symptoms persist, talk to your health professional.

Contains phenylalanine, soya beans and sulfites.
Ingredients
Vitamin B3 (nicotinamide) 2.5 mg; Vitamin C (ascorbic acid) 100 mg; Astaxanthin Esters extracted from Haematococcus Pluvialis; Containing: Astaxanthin (of Haematococcus pluvialis) 1 mg 10 mg; Cysteine 120 mg; Glutathione 25 mg; Briar Rose (Rosa canina extract 125 mg) equiv. dry fruit 500 mg; Cranberry (Vaccinium macrocarpon fruit powder 25 mg) equiv. fresh fruit 1.25 g; Pomegranate (Punica granatum extract 100 mg) equiv. dry fruit skin 400 mg
Contains: Contains phenylalanine, soya beans & sulfites.

Directions for use:
One soft capsule daily, during or immediately after a meal, or as directed by a healthcare professional.



Best Sellers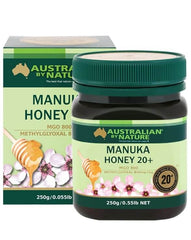 Australian by Nature Bio Ac...