Balance Ultra Ripped Protein Vanilla 1KG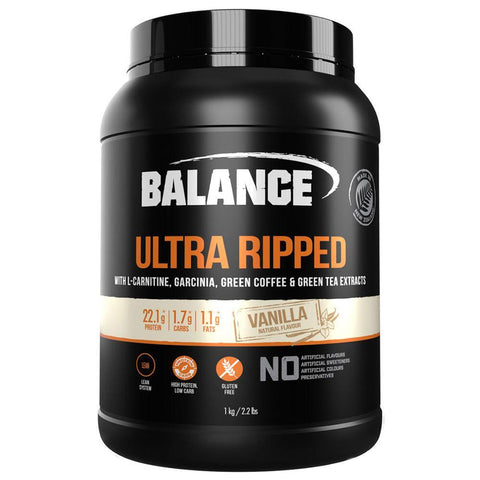 Balance Ultra Ripped Protein Vanilla 1KG
Description:
Balance Ultra Ripped Protein is an ultra high protein, low carb and low fat powderfor the ultimate lean, ripped body. It contains Whey Protein Isolate and Whey Protein Concentrate with added thermogenic herb, amino acids, vitamins and minerals to assist in the release and transport of stored fat and energy. The formula includes green tea extract, caffeine, carnitine, chromium, choline, inositol and garcinia cambogia.

How can Balance Ultra Ripped Protein give me a 'cut' look?
This formula is designed to support maximum energy use and muscle mass with Instanitised  WPI and WPC which is easy digested for maintaining muscle and assisting repair.
Contains Natural Thermogenics:
Green Tea Extract is a natural thermogenic and a powerful antioxidant
Caffeine to help maintain mental stamina you need to perform
Carnitine to assist with fat transportation and metabolism
Chromium to help manage carbohydrate metabolism and the urge to snack
BENEFITS
Helps with Satiety
Supports Energy
BCAAs for Lean Muscle  Mass
Extreme Low Carb and Fat
Helps to Support Lean Muscle Recovery and Development
WPI and WPC for easy Digestion and Absorption
Vitamin, Mineral and Amino Acid Support
Easy to Mix and Tastes Great
WHO, WHEN & HOW?
WHO
Athletes and bodybuilders seeking to get lean and ripped, weight and carb conscious individuals.
WHEN & HOW
Add 28g (1 level scoop) to 200mL water or skim milk and stir, shake or blend until mixed. Can be used up to 3 times daily.
INGREDIENTS
NUTRITION INFORMATION:

Serving size: 28g

AVERAGE

QUANTITY

PER SERVING

AVERAGE

QUANTITY

PER 100g

AVERAGE QUANTITY

PER SERVE IN 200mL

SKIM MILK

ENERGY
437kJ (104Cal)
1560kJ (372Cal)
746kJ (178Cal)
PROTEIN
23.0g
82.1g
30.4g
FAT, TOTAL
0.5g
1.7g
0.7g
- SATURATED
0.3g
1.1g
0.5g
CARBOHYDRATE
1.2g
4.3g
11.5g
- SUGARS
0.6g
2.0g
10.9g
SODIUM
40mg
143mg
131mg
THIAMIN
0.4mg
1.5mg
0.5mg
RIBOFLAVIN
0.6mg
2.3mg
1.0mg
NIACIN
3.7mg
13.3mg
3.9mg
VITAMIN C
14.9mg
53.3mg
17.0mg
VITAMIN E
3.7mg
13.3mg
3.7mg
VITAMIN B12
0.7µg
2.7µg
0.7µg
CALCIUM PANTOTHENATE (VITAMIN B6)
0.6mg
2.1mg
0.6mg
BIOTIN
9.3µg
33.3µg
9.3µg
FOLIC ACID
73.3µg
265µg
74.3µg
CALCIUM
103mg
369mg
357mg
IRON
2.4mg
8.5mg
2.6mg
ZINC
2.2mg
8.0mg
3.1mg
SELENIUM
4.9µg
17.5µg
4.9µg
IODINE
14.8µg
52.8µg
14.8µg
CHROMIUM
46.5µg
166µg
46.5µg
MOLYBDENUM
23.3µg
83.2µg
23.3µg
CAFFEINE
23.8mg
85.0mg
23.8mg
L-CARNITINE TARTRATE
280mg
1000mg
280mg
CHOLINE BITARTRATE
74.8mg
267mg
74.8mg
INOSITOL
74.8mg
267mg
74.8mg
GREEN TEA EXT. EQUIV.
 
 
 
TO DRY LEAF
700mg
2500mg
700mg
GARCINIA CAMBOGIA
0.5mg
1.7mg
0.5mg
HCA EQUIVALENT
0.3mg
0.9mg
0.3mg
GLUTAMINE(ADDED)
140mg
500mg
140mg
BRANCHED CHAIN AMINO ACIDS
ISOLEUCINE
6.9g
 
 
LEUCINE
10.1g
 
 
VALINE
5.9g
 
 
OTHER ESSENTIAL AMINO ACIDS
 
 
LYSINE
9.2g
 
 
METHIONINE
8.6g
 
 
PHENYLALANINE
2.8g
 
 
THREONINE
7.7g
 
 
TRYPTOPHAN
1.7g
 
 
OTHER AMINO ACIDS
 
 
ALANINE
5.4g
CYSTINE
2.8g
GLUTAMIC ACID
17.0g
TYROSINE
3.2g
GLYCINE
1.7g
ARGININE
1.8g
HISTIDINE
1.5g
SERINE
4.9g
PROLINE
5.6g
ASPARTIC ACID
10.3g
INGREDIENTS: Balance Protein Blend (91%) [Whey Protein Isolate, Whey Protein Concentrate, Emulsifier (Soy Lecithin)], Coffee Extract Powder, Flavour, Garcinia Cambogia, Carnitine Tartrate, Vegetable Gums (Xanthan, Guar), Glutamine, Inositol, Anticaking Agent (Silicon Dioxide), Choline Bitartrate, Vitamins and Minerals (Vitamin C, Vitamin E Acetate, Ferrous Fumarate, Nicotinamide, Zinc Oxide, Manganese Sulfate, Pyridoxine Hydrochloride, Vitamin B12, Calcium D-Pantothenate, Riboflavin, Vitamin A Acetate, Thiamine Hydrochloride, Selenomethionine, Vitamin D3, Folic Acid, Chromium Nicotinate, Sodium Molybdate, Potassium Iodate, Biotin), Green Tea Extracts, Sweetener (Sucralose), Glucose Syrup Solids, Lactose.
CONTAINS: Milk and Soy Products. CONTAINS CAFFEINE
Made in New Zealand from local and imported ingredients.
STORE IN A COOL DRY PLACE BELOW 30˚C.
DISCARD CONTENTS AFTER 3 MONTHS OF OPENING.
Product will settle over time. Shake container before use.
Product is sold by weight, some settling may occur over time.
BALANCE ULTRA RIPPED PROTEIN is not intended as a sole source of nutrition. It is best taken in conjunction with a nutritious diet and an appropriate physical training or exercise programme. Not suitable for children under 15 years or pregnant women. Should be used under medical or dietetic supervision
Size 1KG.
Best Sellers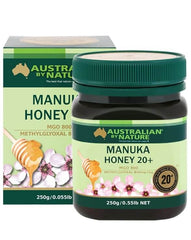 Australian by Nature Bio Ac...