Bio Island Cod Liver + Fish Oil 90 Capsules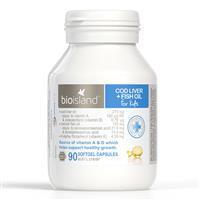 Bio Island Cod Liver + Fish Oil 90 Capsules
Description:
BIO ISLAND Cod Liver + Fish Oil
 90 SOFTGEL CAPSULES. AUST L 167081.
Always read the label and use only as directed
DHA & EPA are essential omega-3 fatty acids, as the body cannot produce them and they therefore must be obtained through the diet.
Vitamin A plays a role in immune mechanisms.
Vitamin D is essential for the absorption and utilisation of calcium. Vitamin D is therefore very important during the growth years.
Vitamin E is an important antioxidant that helps to prevent free radical damage to polyunsaturated fatty acids that help to form the cell membrane.
EACH CAPSULE CONTAINS:
Cod Liver Oil
Equiv. to Vitamin A
& Cholecalciferol (Vitamin D 30IU)
275mg
100mcg RE (333IU)
0.75mcg
Fish Oil – Natural
Equiv. to omega-3 marine triglycerides
As eicosapentaenoic acid (EPA)
& Docosahexaenoic acid (DHA)
120mg
36mg
21.6mg
14.4mg
D-Alpha Tocopherol (Vitamin E 6.5IU)
4.4mg
Recommended Use:
Children aged 4 weeks - 1 year: take 1 capsule; 1-2 years: take 2 capsules; 2-4 years: take 3 capsules; 5-9 years: take 3-4 capsules; children over 9 and adults: take 4-6 capsules.
For children under 4 years, twist or cut the capsule tail and squeeze the contents onto a spoon. The contents can then be administered into the mouth, using the spoon. Alternatively, the dosage can be squeezed onto food..
STORE: below 30°C.
The appearance of this product may vary slightly due to using natural fish oil.
Best Sellers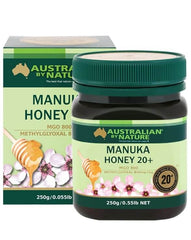 Australian by Nature Bio Ac...