Honey Life Manuka Honey MGO 120+ 500g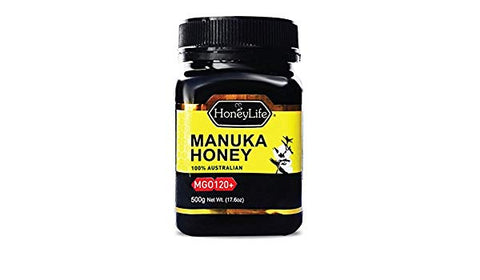 Honey Life Manuka Honey MGO 120+ 500g
Description:
Features and Benefits

Manuka Honey is produced by bees that collect nectar from the
Manuka Bush or Tea Tree (also known as Leptospermum
Scoparium) native only to Australia and New Zealand. Bees
gather the nectar from the flowers of the Manuka Tree and in the
hive, they add an enzyme called glucose oxidase to the nectar in
order to preserve the honey.
Studies on Manuka Honey benefits have shown that Manuka
Honey, a special type of mono-floral honey, contains an ingredient
with powerful antibacterial, anti microbial, antiviral, antioxidant,
antiseptic, anti-inflammatory and anti-fungal properties.
Australia is using the MGO rating system. The higher the MGO
level, the higher the health benefits of Manuka Honey.
Honeylife Manuka Honey is tested at an independent
laboratory to determine the level of MGO in each batch.
Can be used to treat
Soreness in Throat
Gum Disease
Acid Reflux
Heartburn
Stomach Ulcers & Stomach Pains
IBM (Inclusion Body Myositis)
General Aches & Pains
Arthritis
Diarrhoea
Constipation
Insect Bites
Acne & Rosacea
Eczema & Dermatitis
Rashes
Skin Ulcers
Ring Worm
Chronic Wounds
Pressure Sores
Cold Sores
Candida Albicans
Surgical Wounds
Athlete's Foot
MRS/Staph Infections
Psoriasis
Burns
Nail Fungus

• Relieves indigestion and stomach upsets.




• Boosts immunity




• Prevent cold and flu

 Relieves more pronounced disturbances of the digestive system.
• Relieves gastritis
• Relieves cold and flu
• Reduces cough frequency
• Strong, fast-acting antibacterial and healing action
• Natural Antibiotic & Antibacterial
• Improves your Gastrointestinal Health
• Low stomach acid, acid reflux and SIBO
• Remedy for dyspepsia (indigestion)
• Preventing colonic inflammation
• Relieves IBD and IBS
Ingredients
100% Manuka Honey 
Made in Australia
Size 500g
Best Sellers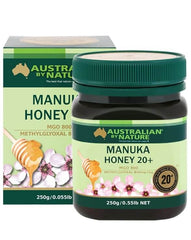 Australian by Nature Bio Ac...