Natural Life Propolis Toothpaste 110g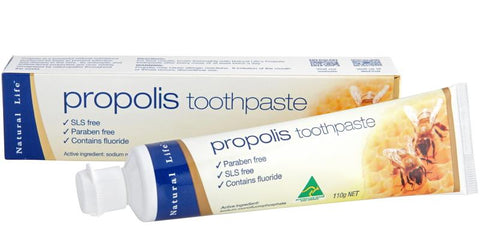 Natural Life Propolis Toothpaste 110g
Description:
Quick Overview

For oral health and fresh breath
Propolis may be beneficial for:
Improving and strengthening immune function
Boosting antioxidant activity
Treating throat & mouth ulcers
Australian Made Natural Life™ Propolis Toothpaste is a safe, gentle and natural option for cleaning your teeth and maintaining your families' general oral health.
All Natural Life™ products are made according to the Australian Code of Good Manufacturing Practice (GMP), so you get the highest quality of product every time.
Details
Natural Life™ Propolis Toothpaste is a natural way to improve oral health and prevent gum disease, harnessing the powerful antibactieral action of Propolis.

100% NAtural Australian Formula, SLS Free, Paraben Free and contains flouride for healthier teeth. 
Health Benefits of Propolis Toothpaste
The antibacterial qualities of Propolis help inhibit the activity of oral bacteria that cause problems such as cavities, decay, inflammation and bad breath
Contains added calcium for stronger, whiter teeth
No added sugar
Aluminium free formula
Ingredients
Calcium carbonate, Water, Glycerin, Silica, Sodium Lauryl Sulfate, Cellulose Gum, Flavours, Propolis Wax, Propylene Glycol, Sodium Monofluorophosphate, Sodium Saccharin, Methyparaben, Mineral Oil, PEG 60, Hydrogenated Castor Oil, BHA.
Natural Life™ Propolis Toothpaste contains propolis plus calcium for stronger, whiter teeth. Natural Life™ toothpaste is free from sugar and aluminium.
Directions
Adults & children over 2 years
For best results, brush thoroughly with Natural Life's Propolis toothpaste after every meal, or at least twice a day.
Warning
Propolis may cause allergic reactions. If irritation or swelling of the mouth or throat occurs, discontinue use.
Propolis may cause skin irritation.  Test on skin before use.
If symptoms persist consult your health care practitioner

Store in a cool, dry place.
Tamper evident packaging - do not use if seal is broken.
Best Sellers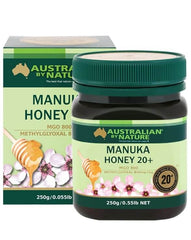 Australian by Nature Bio Ac...