Manuka Health MGO 400+ 500g Manuka Honey New Zealand
Manuka Health MGO 400+ 500g Manuka Honey New Zealand
Description:
FREE SHIPPING OVER $150 within Australia & Fast Shipping!
 ***PREMIUM NEW LOOK***
Expiry Date: 02/2025 (New Stock)
Buy 3 Manuka Health MGO 400+ 500G Get 1 FREE Manuka Health Lozenges Ginger Lemon Flavour 15 DROPS

IMPORTANT NOTE: CUSTOMERS MUST ADD THE QUANTITY OF FREE MANUKA HEALTH LOZENGES GINGER LEMON FLAVOUR TO THE CART, AND ENTER THE PROMO CODE: BEESPECIAL
Only 1 promo code can be used per transaction.
If customers do not add Manuka Health Lozenges Ginger lemon flavour and enter this code: BEESPECIAL AND the quantity of free Manuka Health Lozenges ginger lemon flavour in the cart, we are not responsible for not including the free items.
Buy in Bulk and Save!!!
SAVINGS $$$$
The Best Price Manuka Honey New Zealand MGO 400+ 500g
100% PURE NEW ZEALAND
100% ORIGINAL PRODUCT
Unique to New Zealand MGO™ Manuka honey is a 100% natural food shown to have beneficial activity due to the active compound – Dietary Methylglyoxal which forms naturally in the nectar of the manuka plant.
Unique MGO™ Manuka Honey is collected from a New Zealand plant called Leptospermum scoparium.   For quite some time the unique manuka honey activity was known and measured by a general measurement of its biological effect.

What was causing the beneficial activity remained unknown for almost 15 years until a research group led by Professor Thomas Henle, University of Dresden (Germany) discovered what makes  MGO™Manuka Honey so special.

MGO™ Manuka honey has a significant Dietary Methylglyoxal content ranging from 20mg/kg to over 800mg/kg.  In contrast all other honeys worldwide tested have ranged between 1 to 10 mg/kg.
Manuka Health honey is unpasteurized and classified as raw. 
Ingredients :
MGO 400+ Manuka Honey 500 g
This MGO 400+ Manuka Honey is certified to contain at least 400mg/kg of dietary methylglyoxal.
How to use it :
Take 5g (1 teaspoon) 30 minutes before meal, 3 times daily. Intake can be increased if necessary.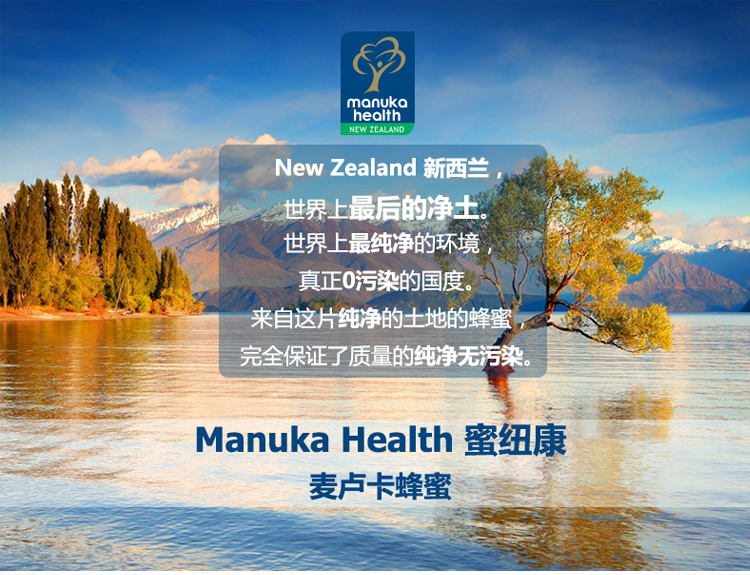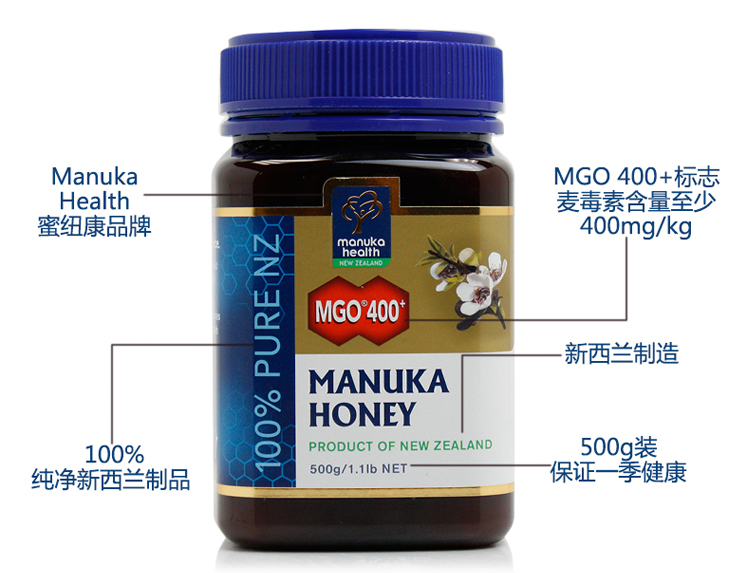 Collections
Best Sellers
Australian by Nature Bio Ac...