Naturopathica Collagenix Beauty Shot 50ml X 10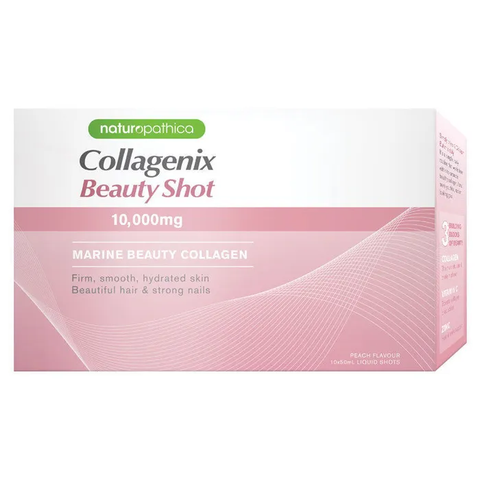 Naturopathica Collagenix Beauty Shot 50ml X 10
Description:
The promise of Collagen - younger looking skin!
Collagen is the building block for youthful, radiant looking skin. It helps keep it firm, plump and hydrated. But from the age of 25, your collagen production begins to slow down and continues to decline, causing the appearance of fine lines and
wrinkles.
Help Boost & Re-build Collagen:
Collagenix Beauty Shot contains a highly concentrated dose of premium marine collagen - to help support collagen repair from within. Plus, a blend of 7 powerful beauty nutrients that work together to nourish & replenish for beautiful, youthful & radiant looking skin: Vitamin C – Zinc – Vitamin A – Vitamin E – Vitamin B1 – Vitamin B2 – Vitamin B7 (Biotin)
Directions for use :
Drink 1 shot (bottle) a day - It's a simple, daily routine that works from within to promote healthy collagen, for a more youthful, radiant looking you.
Store below 25°C in a cool dry place away from direct sunlight.
Ingredients :
Water, Hydrolysed Collagen (20%), Apple Juice Concentrate, Citric Acid Monohydrate, Chinese Jujube Extract, Flavours, Ascorbic Acid, dl- -tocopheryl acetate, Zinc Gluconate, Sucralose, Steviol Glycoside, Riboflavin, Thiamine Mononitrate, Vitamin A Acetate, d-Biotin. No added sugar. Free from Dairy, Gluten & GMO-derived ingredients.
Warnings :
Not suitable for children under 15 years of age or pregnant women, unless used under medical or dietetic supervision. 
This is a Supplementary Sports Food, as such, it is not a sole source of nutrition and should be consumed in conjunction with a nutritious diet and appropriate physical training or exercise program.
Do not use if tamper evident seal is broken or missing.
Contains fish products.
Best Sellers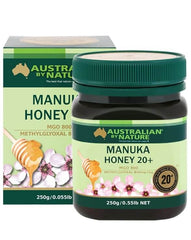 Australian by Nature Bio Ac...